What is tested
Threat response, detection, and investigation processes
Social engineering training processes and prevention capabilities
Internal monitoring and detection capabilities
Potential compromise paths
Endpoint protection systems, policies, and configurations
Wireless configurations and employee training on dealing with wireless attacks
Our offer
A comprehensive framework for customer-tailored red team engagements
A lot of time spent on internal research
An established private tooling development process
Additional attention paid to social engineering, OSINT, or on-site activities that are usually left out-of-scope for compliance penetration tests
A demonstrated ability to simulate a known APT group
How we do it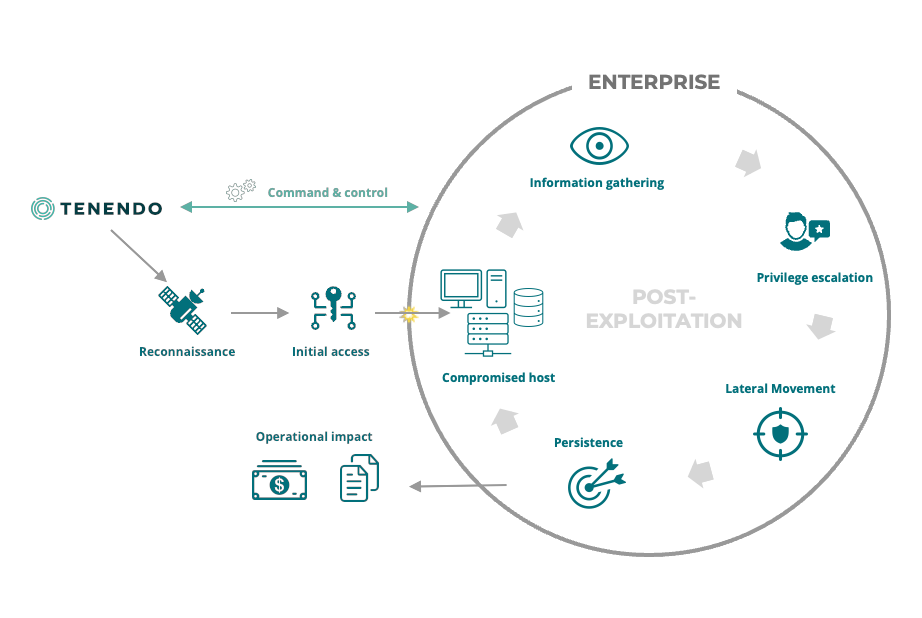 During the test, a complete path is developed either from the outside networks or from initial employee-level access with no prior knowledge of the infrastructure to the internal protected segments and hosts of the network. The goal of the assessment may vary from compromising target hosts and services to sensitive data exfiltration.
The Attack Lifecycle
Reconnaissance
The team conducts external reconnaissance of the target organisation and its public-facing infrastructure
Initial compromise
The offensive operations team conducts a variety of attacks ranging from social engineering to exploitation. The ultimate goal of the step is to obtain initial access to the organisation.
Persistence, escalation, and lateral movement
The team explores opportunities for expanding access and ensuring persistence.
Achieving the objective
The privileges and access obtained are leveraged to achieve the goal of the test, like exfiltration or critical infrastructure access.
Debriefing and purple teaming
After the report is written, the team conducts the debriefing and provides recommendations. If any allocated time is left, the team works with the blue team to develop new detections and mitigation strategies.
Experience and accreditations
With more than 20 years of total experience in cybersecurity and testing, our experts hold the following certifications:
Compliance and information security:
Certified Information Systems Auditor (CISA)
Cisco Certified Network Associate (CCNA)
ISO 27001 Lead Implementor
AWS Cloud Practitioner
Certified Cloud Security Professional (CCSP)
Test consultancy:

ISTQB Advanced Level Test Manager (CTAL-TM)
ISTQB Advanced Level Technical Test Analyst (CTAL-TTA)
Cyber security:
Offensive Security Certified Professional (OSCP)
Offensive Security macOS Researcher (OSMR)
Offensive Security Certified Expert3 (OSCE3):

Offensive Security Experienced Penetration Tester (OSEP)
Offensive Security Web Expert (OSWE)
Offensive Security Exploit Developer (OSED)

Certified Red Team Operator (CRTO)
Certified Red Team Expert (CRTE)
Hack the Box Red Team Operator: Level 1
Hack the Box Red Team Operator: Level 2
Hack the Box Red Team Operator: Level 3
Hack the Box Pro Lab BlackSky: Hailstorm
Cyberwarfare Labs: Certified Red Team Specialist
Your Cyber Resiliency is Our Passion
schedule a call